Sharyn Killens' Biography
Sharyn Killens was The Inconvenient Child. She was born to a blonde white Australian mother and a black American serviceman father in 1948, during a time when what society thought, mattered.

Placed in neglectful foster care at birth, at 19 months old, baby Sharyn was rescued by visiting African American champion boxer Freddie Dawson and taken to live in a 'party house' in Sydney's red light district of Kings Cross. But at age five, her absent elegant mother abandoned her in a convent–orphanage, where she suffered years of abuse at the hands of a cruel nun.

By fifteen, as a runaway teenager on the streets of Kings Cross, she was arrested and sentenced to notorious Parramatta Girls Home; a reformatory where girls were stripped of their dignity and punished frequently. She was then transferred to Hay Girls Institution; an experimental disciplinary centre – in truth, a hard labor prison for young girls.

Throughout, her solace was her love of music and her burning ambition to become a singer as she battled for her mother's love and approval, and her black American father's denied identity.

But by twenty-four, Sharyn Killens was Georgia, the exotic dancer in Kings Cross and soon became caught up in the decadent lifestyle.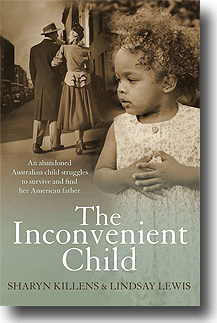 Leaving her troubled past behind, she became Sharyn Crystal, a popular singer and accomplished entertainer in nightclubs and on glamorous cruise ship stages around the world. But she never gave up hope of discovering her American father's true identity.

At age forty, her quest to find him began, taking her on an emotional and uplifting journey across the world from Sydney to Los Angeles and to New York. Then to America's deep south in search of her roots and a place and family where she could finally belong.

The Inconvenient Child is the remarkable true story of Sharyn Killens' extraordinary life. More Info...

Get the First Chapter

FREE NOW

Fill in your details then
download your Free Chapter.

You can remove yourself from the list
at any time.
When you click the Submit button, you'll receive an email with a confirmation link.
Please click the link and you're all set.
Read our NO SPAM policy